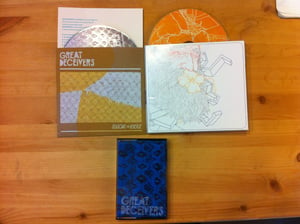 $

8.00
These CDs aren't available for purchase together, we just wanted to save a little space in our store.
'Seasons In Reverse' was released in August 2011. The CDs are part of a run of 500 hand-screenprinted and hand-numbered copies. Which means once we're out, we're out! Get them while they're hot, or at least room temperature.
'Seasons' is also available on cassette. It looks really nice, the artwork and colors vary from copy to copy.
'House of Stairs' was released in July 2010. We've only got a few of these guys left, don't wait, get yours now!
'Seasons' CD - $8
'Seasons' Cassette - $4
'House' - $7